Elizabeth Is Missing


by Emma Healey


Published by
HarperCollins
on 2014-06-10
Genres:
Psychological
,
Suspense
,
Thrillers
Pages:
320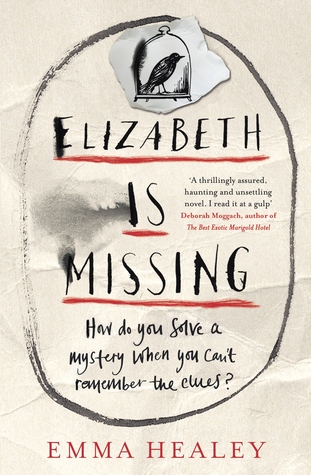 Elizabeth is missing – why will no-one listen?
Maud keeps making tea and toast, despite the stick notes in her kitchen. She wonders who is that old woman in the mirror is. She keeps finding notes in her pockets, and trying to decipher them. There are other things in her pockets, too – flower petals, a piece of a fingernail. There is dirt under her nails. She can't help thinking that these things are clues – but to what? Elizabeth is missing! Why will no-one do anything? And where is a good place to plant marrows?
We experience this book from Maud's point of view – an elderly woman with progressive dementia. (Finally, a great use for first person present tense narration!) Maud's behaviour is clearly challenging to family and carers at times – she tears the heads off flowers, stabs plates, overturns tables, leaves the gas on on the stove, and keeps buying tins of peach slices. The police humour her, the doctor says she's rung multiple times this week, her family just roll their eyes when she urgently tells them "Elizabeth is missing!", and her daughter is now getting infuriated every time she asks about planting marrows.
As we experience Maud's present life, she also journeys through her memories of her sister's disappearance a lifetime ago. These older memories are less confused, being older, and as that mystery unfolds the story slowly, slowly pieces together.
The initially jumbled-seeming narrative of Elizabeth is Missing is meticulously woven and beautifully drawn. And Maud's voice is marvellous! At first, it was horrifying to contemplate that progressive, disabling loss of memory; to literarily live inside that degree of memory loss affected me quite badly, as I have had family experience with dementia. But as the book progressed, I came to deeply admire Maud's determination and courage. This view from the inside shows the ways in which apparently 'irrational' behaviour can be all perfectly rational and reasonably motivated, even if the motivations are unclear to bystanders. Maud is a likeable, tenacious character with an arid wit, and Emma Healey is a remarkable writer.
 This book was received from Netgalley in return for an honest review.